Cone Crushers For Sale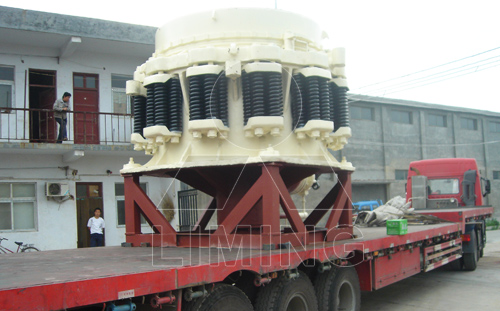 cone crushers for sale
Cone Crushers Description:
Cone crusher, the introduction of foreign technology, based on customer needs, based on laminated crushing principle and the multi-break less what the conceptual designers developed set of high pendulum frequency, to optimize the cavity type and reasonable stroke in one of the modern high-performance crusher.

Efficient cone crusher is the cone break one of the most widely used and most stable performance, especially spring safety system of the overload protection device to the iron through the crushing chamber without jeopardizing equipment, isolation of a unique sealing system to make powder and lubricants, which can ensure reliable device to work. Efficient cone crusher from the primary crushing to the chronology, from the fixed crusher, mobile crusher station; from the special primary crushing to the lubrication of the crushing cavity to choose from, so you can crushing chamber type fragmentation process; points multi-point control independent lubrication system ensures double protection of the models bearing lubrication, and can realize the whole automatic safety protection.
Application Areas:
Spring cone crusher can be widely used in metal and nonmetal mines, cement plants, construction, sand and gravel metallurgical industries. Particularly applicable to iron ore, non-ferrous metal ore, granite, limestone, quartzite, sandstone, cobblestone, etc.. Its high efficiency, low production costs, broken grain type, and the high quality of sand and gravel aggregate, construction, mining, metallurgical industry, as well as highway, railway, bridges, water, electricity and mineral crushing and other areas of the device of choice.
How Cone Crushers Work:
Cone crusher work by the motor through the belt, pulley, shaft, small bevel gear, the large cone gear driven eccentric sleeve rotation, crushing cone axis line in the forced move of the eccentric sleeve, a rotating swing, making the broken wall surface and sometimes near and sometimes leave the rolling acetabular wall surface, so that the material broken in the fixed cone and movable cone circular cavity constantly under attack, squeezed and bent and broken. After repeated extrusion, impact and bending, the material broken to the required particle size by the lower part of the discharge.
Liming Cone Crushers for Sale:
Liming Heavy Industry cone crushers are an excellent cone crushers. Liming Heavy Industry is committed to producing the best mining machinery and equipment, can produce various types of cone crushers. If you need a cone crushers or similar products, please contact us, we will provide quality service so that you get a satisfactory harvest.