How a Ball Mill Works?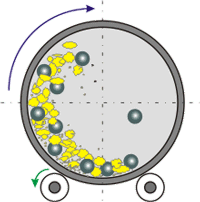 how a ball mill works
Ball Mill Introduction:
The ball mill is an effective tool for grinding many materials into fine powder. Ball mill grinding a variety of mines and other materials, or select it widely used in building materials, chemical industry, etc. mine.2 grinding in two ways: dry and wetlands. It can be divided into tabular type and flow type according to different expulsion of mine.

Ball mill is the ground material into the Neoprene barrel that contains grinding media. Barrel rotation, the material is crushed between the grinding media, mixed, crushed into fine powder, had the product within a few hours.

The ball mill is very simple, run the longer, more fine powder. The final particle size depends entirely on your abrasive how difficult it is, how long the mill running. Has been used for ball mill grinding glass, powder food, create custom varnishes, ceramic glaze, all kinds of chemicals, powder, to make black powder.
How a Ball Mill Works?
The ball mill is a grinder to reduce the hard material powder. Ball mill grinding materials, steel rotating cylinder grinding ball / ceramic ball, the ball falling into the cylinder to the ground material.

Cylinder at a relatively slow speed of rotation, so that the ball mill base, thus grinding or dispersion of the material through the cascade. The rotation is usually 4-20 rpm, depending on the diameter of the mill. Larger diameter rotating slower.

If the grinding of the circumferential speed is too great, it began like a centrifuge, the ball does not fall, but remain in the circumference of the mill. Mill known as the "critical speed" become the point of the centrifuge, ball mill is usually 65-75% of critical speed.

The ball mill is generally used to grind material 1/4 inch and finer, down to a particle size of 20-75 microns. Achieve a reasonable efficiency of the mill, they must operate in a closed system, the continuous cycle will be mill to reduce oversize materials. Various classifications, such as screens, cyclones and air classification for the classification of ball mill discharge.

Divided into operations on the basis of the batch mill and continuous mill, ball mill, they are also classified depending on grinding for media that is, the steel mill, pebble mill, pot mill.