Spring Function in Cone Crusher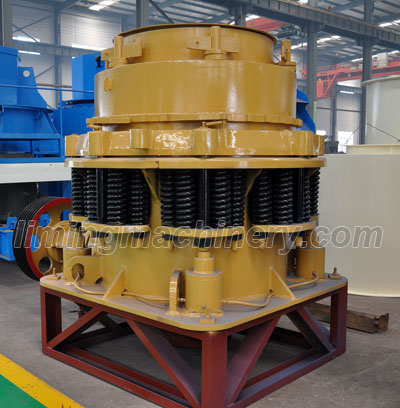 spring function in cone crusher
Spring in cone crusher
Cone crusher is a high-efficiency low consumption equipment which has the world advanced technical level, Now it is the new generation of the nordberg cone crusher,cone crusher symons . Compared with the traditional crusher, it features more reliable structure, higher efficiency, easier adjustment setting, lower cost and higher productivity. And with excellent optimization, the S series has more reasonable structure and advanced technology. Besides, it also has outstanding performance in manufacturing, installation, using and maintance. It is widely used in metal and non-mental mines, cement factory, building construction, gravel metallurgy and other industries, especially for crushing various of mid-hard and above mid-hard materials, such as: iron ore, nonferrous metal ores, granite, limestone quartzite, sandstone, pebbles, etc.

The spring is the important part of the cone crusher, they are evenly distributed around the main cone crusher. These four weeks of the spring came together to form a spring insurance system, played an extremely important role in the safety of cone crusher.
Spring Function:
Spring is a flexibility to work the machine parts. Usually made ​​of spring steel. To control the movement of parts, ease shocks or vibration, the storage build energy, measuring the size of the force, is widely used in machinery, instrumentation. Complex and diverse types of spring, according to the shape points, the main coil spring, scroll spring, plate spring.

The spring in the cone crusher is to use the spring function to buffer when it is on shocking or vibratiing. So it is filled with spring around the main cone crusher. These springs form the spring insurance system. cone crusher the run, if the spring insurance system overload protection device make iron can not be broken material smoothly through the crushing chamber without detriment to the device itself. This reduces the unnecessary trouble and equipment maintenance costs. So spring is indispensable for the necessary components in the cone crusher. cone crusher in the production, the manufacturer should be used in the spring made ​​of high quality steel, and to ensure that the spring load specifications and installed, can crushing difficulty occurs, give full play to the function of the cone crusher spring safety device, to ensure the crusher line running smoothly.