Ball Mill Design
Ball Mill Introduction:
The ball mill is the key equipment for the material to be broken, and then crushed. It is widely used in cement, silicate, new building materials, refractory materials, fertilizer, black and non-ferrous mineral processing as well as glass, ceramics and other manufacturing industries, a variety of ores and other grind-able materials, dry or wet grinding. Applicable to ball mill grinding various ores and other materials, widely used in mineral processing, building materials and chemical industry can be divided into dry and wet two grinding way. According to different ways of discharge can be divided into two kinds of grid type and overflow.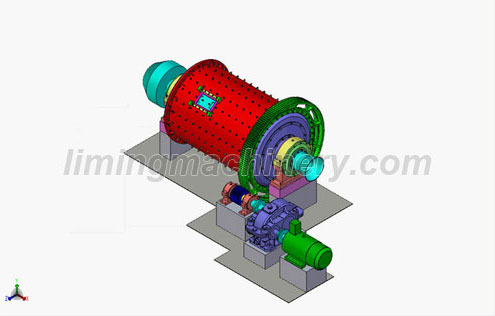 ball mill design
Mechanical Structure:
The ball mill is composed of feeding part, the discharging part, turning part, transmission part (reducer, small driving gear, motor, electronic control), the main part of. The hollow shaft using steel, lined with removable rotary gear casting hobbing process, the body inlaid cylinder liner wear, has good wear resistance. The operation of the machine is stable, reliable work.

The ball mill hosts, including cylinder, the body inlaid cylinder liner made of wear-resistant materials, bearing cylinder and maintain its rotating bearing, but also part of the drive, such as electric motors, and transmission gear, pulley, belt etc..

Called the blade parts is generally not the main components of the feed inlet of the components of the feed side can be called within the spiral helical blade components in the discharge end of the spout with inner spiral can be called helical blade.

In addition, the discharge end of the auxiliary equipment with spiral transport aircraft, the device will be called the parts of the helical blade, but strictly speaking it is not part of the ball mill.

According to materials and ways of discharge, you can choose the dry ball mill and wet-lattice-type ball mill. Energy-saving ball mill, self-aligning double row spherical roller bearings, running small resistance, significant energy saving effect. The cylindrical part, the increase in the original cylinder discharge end of a period of cone cylinder, not only increasing the effective volume of the mill, and also allows the barrel media more rational allocation of. The products are widely used non-ferrous metals, ferrous metals, non-metallic mineral processing field and chemicals, building materials industry for material grinding use.
Ball Mill Design:
Understanding of the mechanical structure of the ball mill, and it is easy to make ball mill design and processing according to the mechanical structure of the ball mill, ball mill. Liming Heavy Industry is a large mining equipment manufacturers, design and production of various types of ball mill. The ball mill can be used for a variety of industries. After many times the ball mill design improvements, the current excellent quality of our mill, praised by customers.