Hammer Mill Animation
Hammer Crusher:
Crusher is a machinery in more than 50% of the content of the total high capacity row compound particles larger than three millimeters. Crushing operations often the size of feeding and nesting granularity into the rough broken in pieces and crushing.
A hammer mill is a machine whose purpose is to shred or crush aggregate material into smaller pieces. Hammer millhas a great crushing ratio, uniform particle size of nesting, over crushed material less energy consumption low. Wear faster due to hammer on the application of hard materials broken by restrictions; In addition, fear of clogging the grate should not use it, crushing humidity Japanese clay-containing materials. This crusher is usually used to following the crushing of limestone, shale, coal, gypsum, chalk, etc. in hard brittle materials.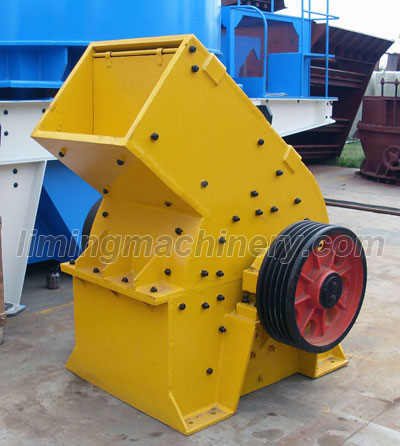 hammer mill animation
Hammer Mill Work Animation:
Hammer milli with a high-speed impact of the use of hammerhead and materials for the broken and minor operations broken machinery. hammer millhammer hinged on the high-speed rotation of the rotor body lower part of the particle size of the grate bars to control the discharge. The material into the hammer to break the first to suffer the impact of high-speed movement of the hammer while the initial crushing, and at the same kinetic energy, high-speed flying to a broken plate on the casing inner wall has again been broken. The material of the gap material is less than the grate gap from outside, is greater than the grate bars on the grate bars once again under the hammer impact and grinding until less than the grate gap after discharge.
The Usage of the Machine:
Hammer millis widely used in mining, cement, coal, building materials, metallurgy and other industries. hammer millThe hammer is replaced by a steel ring ring coal crusher hammer millvariant. It uses the combined effects of high-speed impact and low-speed roll to break material, and thus receive more fine products, mainly used for crushing coal power plants, can also be used gypsum, salt, chemical raw materials and in hard materials broken.

Liming Heavy Industries is a production of large and medium-sized series of crushing and milling machinery equipment, research and development, production, sales as one of the cone crusher manufacturers. Liming Heavy Industry company brand known worldwide, produced a dozen or more series, more than ten kinds of specifications of the large and medium-sized mobile crushing plant, jaw crusher, impact crusher, hydraulic cone crusher crushing equipment, won several national patents in the industry. Liming Heavy Industry to provide you with a variety of good quality crusher, hammer crusher, including all models.