Introduction of Ball Mill
Introduction of Ball Mill:
Ball mill is the key equipment to grind the material be broken and smashed. It is widely used in building materials, chemical industry, metallurgy, ceramics, electricity and mineral processing industry, mainly used for grinding various materials.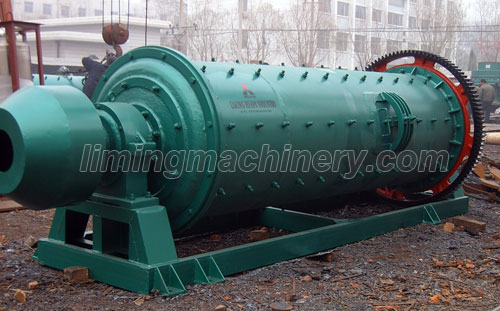 introduction of ball mill
Ball Mill Structure:
The machine consists of the main part of the feeding part, discharging part, turning part, transmission part (reducer, small driving gear, motors, electrical control). The hollow shaft using steel, lined with removable rotary gear casting hobbing process, the body inlaid cylinder liner wear, has good wear resistance.
Ball mill Work Principle:
The ball mill is a horizontal cylindrical rotary device, the outer gear, the two positions, lattice roller mill. By material from the feed device into the compound by the air shaft spiral evenly into the mill's first warehouse, the warehouse there are ladder liner or corrugated liner, built with different specifications steel ball, rotating cylinder produces a centrifugal force to the ball a certain height After the fall pounding and abrasive materials. The material in the first position, the coarse grinding, the single-layer diaphragm plate into the second position, the warehouse lined with flat lining, steel ball, the material further grinding. Powder through the discharge grate plate to complete the grinding operation.
Ball Mill Usage:
The ball mill is the key equipment for the material to be milling. Applicable to ball mill grinding various ores and other materials, widely used in mineral processing, building materials and chemical industry can be divided into dry and wet two grinding way. According to different ways of discharge can be divided into two kinds of grid type and overflow.

The aircraft used in cement building materials, nonferrous and ferrous metal factories, mines and industrial sectors, for grinding a variety of ores and other grindability materials. At the same time can also be used in silicate products, refractory materials, fertilizer, glass, ceramics and other chemical industry, a variety of ores and other grind-able materials, dry or wet grinding.
Introduction of Ball Mill of Liming:
Liming Heavy Industry is one of China's largest ball mill manufacturer with solid strength and advanced technology. Liming produced the ball mill has good abrasion resistance, can be a long time to ensure the operation of the machine is stable, reliable. The ball mill can produce a variety of models and specifications can be applied in the mining, cement, refractory, chemical and other industries.